🇯🇵 A delicacy from the land of the Rising Sun
Every time I've made this Japanese dish for dinners with friends, I've had nothing but compliments! It's so good that everyone agrees. This popular Japanese dish seems to impress everyone!
Although traditionally made with pork, I wanted to try it with chicken today.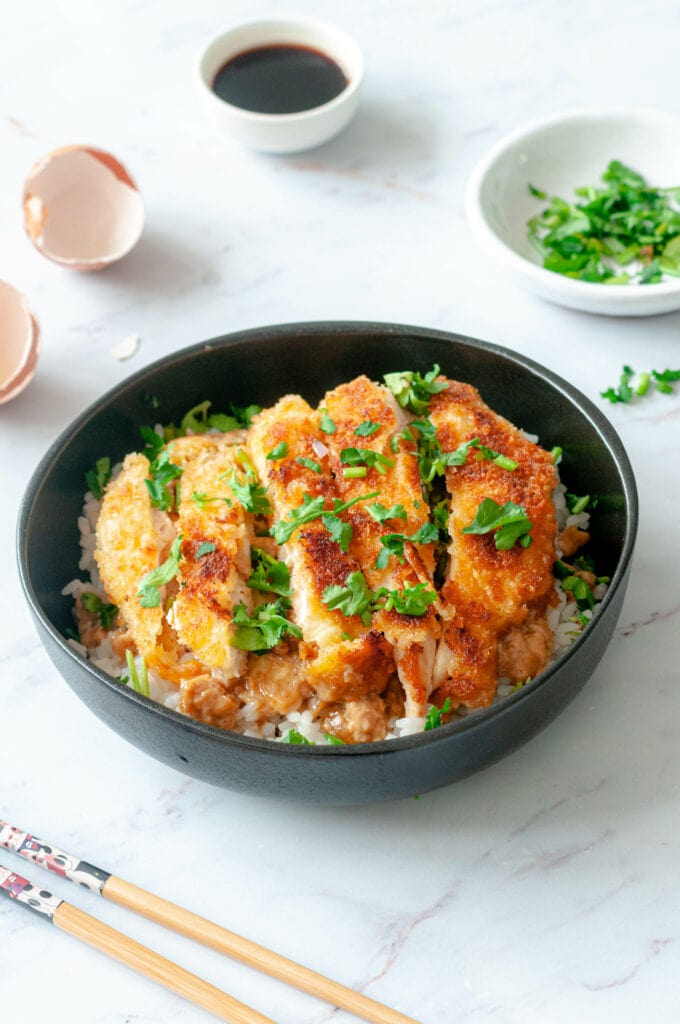 💙 Why you'll love this recipe
It's quite easy to make, with all my indications
It is perfectly suited to a gluten-free diet.
It lets you travel to the other side of the world while staying...at home!
✅ A recipe suitable for gluten intolerant/allergic people
To make this recipe gluten-free, use gluten-free flour, gluten-free soy sauce and do not use Panko breadcrumbs, which contain gluten. You can find alternatives or use normal breadcrumbs.
As for Japanese rice, it's normally gluten-free, but be careful as this can vary from variety to variety.
Mirin sauce, Dashi broths, chicken cutlets, eggs, shallots, olive oil and coriander are gluten-free .
🥚Which eggs to choose?
Ideally, organic or free-range eggs. You can refer here to the Eco Tips I wrote about the egg code to help you make the right choice.
🍚 Which rice to choose?
Try to choose fair-trade rice. Find out more about labels and advice for choosing your rice by checking the Eco Tips I wrote on the subject !
💡Frequently Asked Questions
How to store Katsudon?
I recommend storing this recipe in an airtight tin in the fridge for up to 3 days.
What are Panko breadcrumbs?
These Japanese breadcrumbs make for a much better breaded, golden and crispier result. You can replace it with normal breadcrumbs, which will be very tasty but less crunchy.
What is Dashi broth?
It's "THE" basic broth in Japanese cuisine, a bit like poultry or vegetable broth for us. It has a delicious umami taste. You can replace it with our broths, but that would be a shame.
What is mirin?
This is a Japanese culinary sake, crucial for this recipe.
Can Japanese rice be replaced?
I use sushi rice, but when I don't have any, I use classic Basmati rice.
🎥 The step-by-step video recipe just below
📖 Recette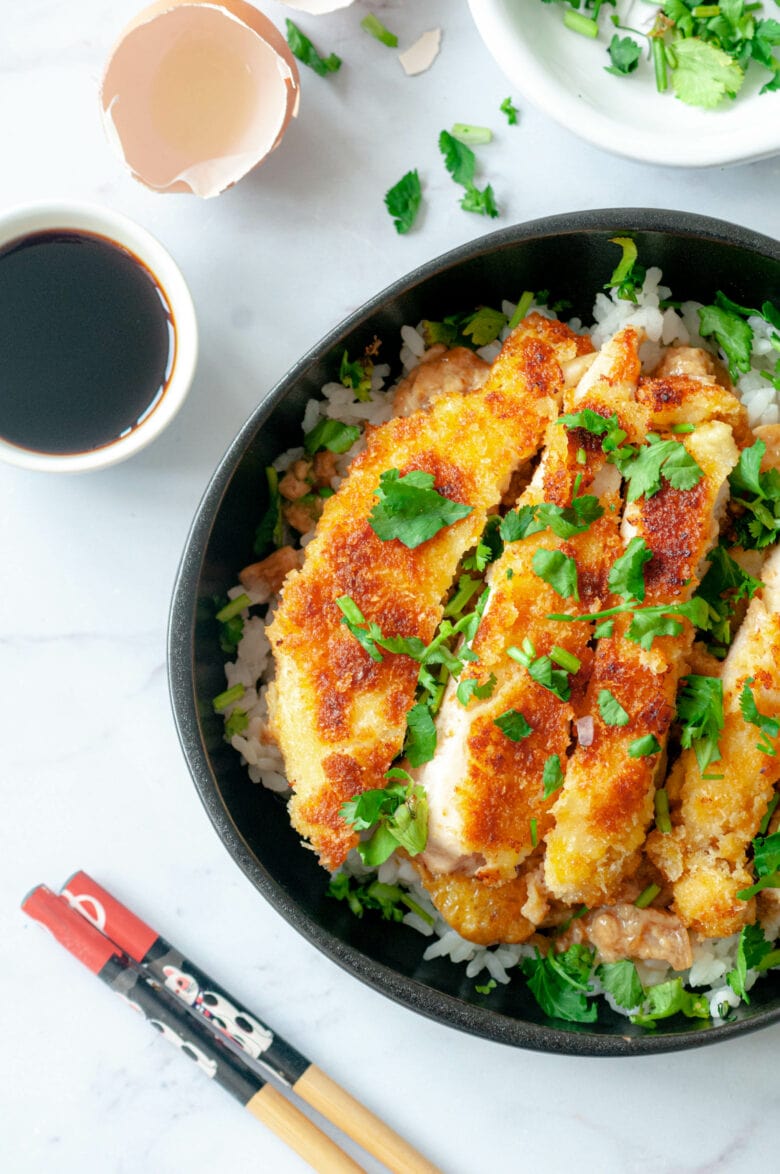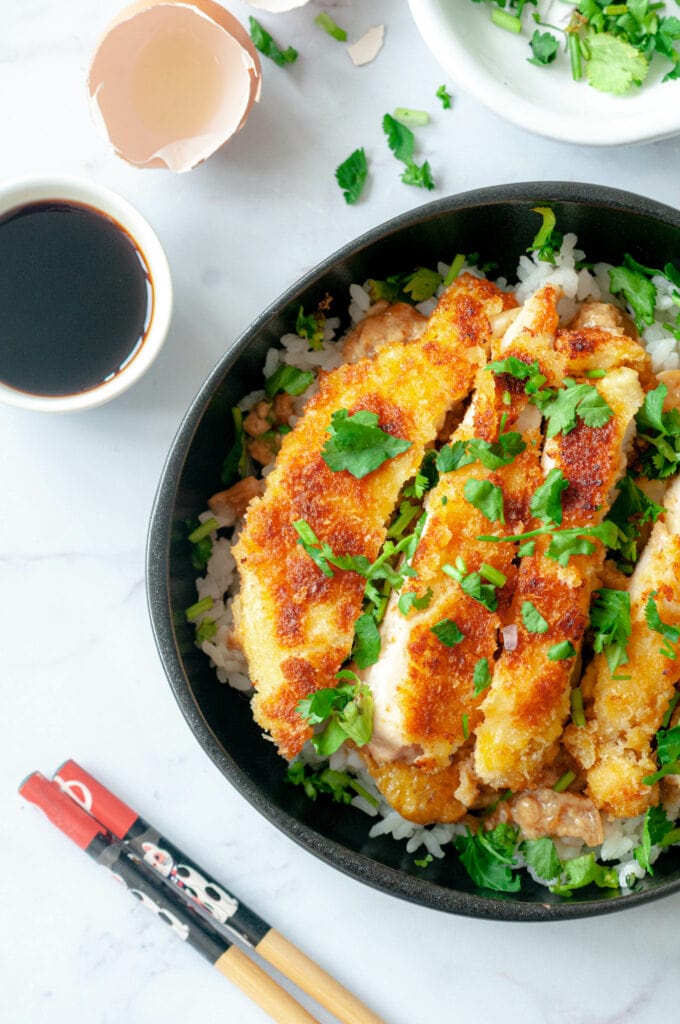 Japanese Katsudon
Crispy breaded chicken on a sloppy soy-sauce omelette, with rice and fresh coriander: Katsudon is a cult dish in Japanese cuisine, as delicious as it is simple to make. Beware, you may become addicted!
Ingredients
2

chicken cutlets

3

eggs

6

tablespoons of

flour

6

tablespoons of

Panko breadcrumbs

200

ml of

Dashi broth

7

tablespoons of

soy sauce

salty (adjust to taste)

1

tablespoon of

mirin sauce

1

shallot

Olive oil

Visit

sheets of

coriander

fresh

1

bowl of

Japanese rice
Instructions
Beat the eggs on a plate. Then coat the cutlets in breadcrumbs, dipping them in beaten eggs, flour, eggs again and finally Panko breadcrumbs. Don't throw away the beaten eggs - they'll be used in the rest of the recipe!

Cook the cutlets over medium heat in a frying pan with a drizzle of olive oil for about 5-10 minutes on each side, then set aside.

In the same frying pan, sauté the shallot, thinly sliced beforehand, with a little olive oil. Then add the dashi broth, soy sauce and mirin. Leave to infuse for one or two minutes.

Lower the heat, add the breaded cutlets to the center of the pan, then the remaining beaten eggs around them and cook over low heat until an omelet forms (it should be quite runny).

Serve in a bowl with the rice and a sprinkling of coriander, then enjoy this culinary marvel!
Notes
For a crispy Katsudon: instead of placing the breaded chicken in the broth and adding the eggs around it, place the breaded chicken directly on the rice and add the omelette around it. That way, the chicken fillets won't get soggy.
Storage: once cold, place Katsudon in an airtight Tupperware-style container. This means you can keep it for up to 3 days.
Reheat: to reheat, leave in a frying pan over low heat for a few minutes. You can also put it in an oven at 160°C for about ten minutes. Avoid the microwave, which will soften the breadcrumbs.
Nutrition
Serving:
1
person
|
Calories:
403
kcal
|
Carbohydrates:
8
g
|
Protein:
60
g
|
Fat:
13
g
|
Saturated Fat:
4
g
|
Cholesterol:
390
mg
|
Sodium:
897
mg
|
Potassium:
1072
mg
|
Fiber:
1
g
|
Sugar:
2
g
|
Vitamin A:
429
IU
|
Vitamin C:
4
mg
|
Calcium:
90
mg
|
Iron:
3
mg
Other Japanese recipes you're sure to love