🇯🇵 Gyoza: one of Japan's most popular dishes
Gyozas are simply little bites of pasta, toasted on one side and soft on the other, and topped with whatever you like. They can be found in most Asian restaurants. But when you make them yourself, the combinations are endless...
Gyoza has been popular in the Land of the Rising Sun since the 1930s. At the time, the war between Japan and China was raging, and the two peoples maintained close ties. In fact, gyoza is simply an adaptation of the Chinese ravioli (jiaozi), with a thinner dough texture and a finer filling. In fact, on returning home, the Japanese tried to recreate jiaozi, changing the dough and filling somewhat. That's how gyozas came to be!
💙 Why will you love this recipe?
It's delicious, worthy of Asian restaurants where gyozas can sometimes be a bit pricey.
It can easily be veganized
No complicated or hard-to-find ingredients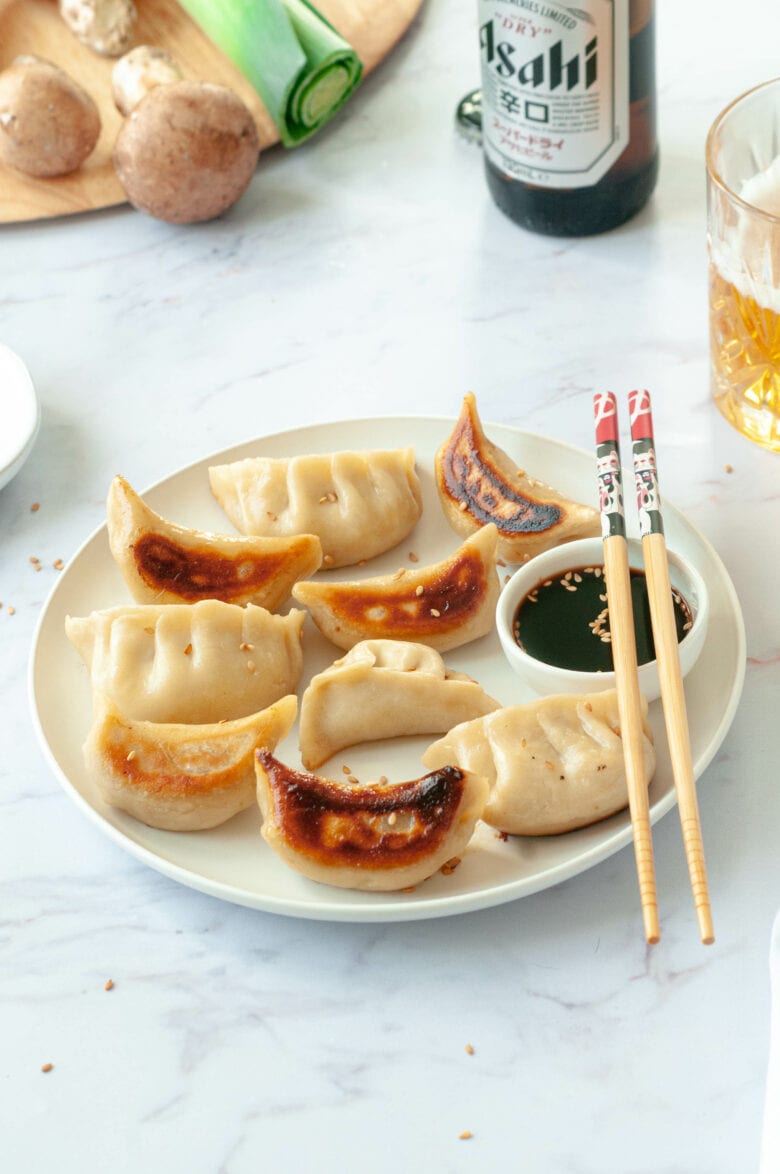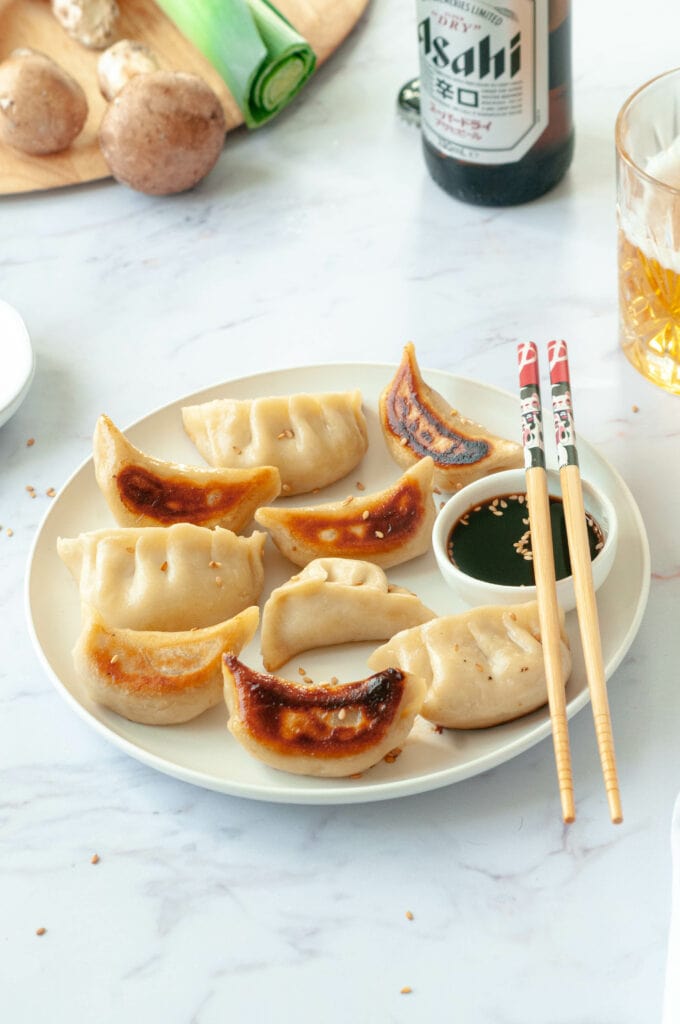 🍄 A recipe that's easy to veganize
The filling in this recipe is not vegetarian or vegan. You can replace the chicken with tofu or simply remove it, leaving only the vegetables. If you do, your gyozas will be vegan!
🤔 The different stages of gyozas
🥟 Making gyozas
Homemade gyoza dough
Anything simpler would be really difficult: flour,water and a little salt are the three ingredients you need. If you're feeling lazy - and that's the longest part of the recipe - you can buy ready-made gyoza dough. But it may not be as good...
Tip: with homemade dough, it may take a little longer to make. You may find that your dough dries out and the edges no longer stick together. Don't panic: simply wet one of your fingers in a glass of water and touch the edge of your discs with it.
Ready-made gyoza dough
The process remains the same, you just need to skip steps 1 to 4. And the recipe will take you no more than 30 minutes!
🤏🏼 Folding gyozas
It's not that hard! You just have to get the hang of it: the first two or three may not be magnificent, but you learn quickly. If you don't know how, watch my video at the end of this article.
In a nutshell: you take a disk in your hand, put 1 teaspoon of filling in the middle and then fold the disk into a half-moon shape. Then take a small piece of one half and stick it to the other half, until the gyoza is completely closed.
🍳 Cooking gyozas
The secret lies not in the dough, but in the baking.
Heat the neutral oil in the frying pan over high heat, put the gyozas in and wait a few minutes, until golden brown. Then reduce the heat to low-medium, add the water and cover for 3-4 minutes. And the super-important step for crispy gyozas is to leave on a medium heat for a few more minutes, without the lid, so that the water can evaporate. And it's a real success!
😶‍🌫️ Preserving, freezing and defrosting gyozas
Keep them
The reheated gyozas are soft and not very good. I recommend freezing them if you can't cook them immediately after making them. It is essential to freeze them raw.
Freeze them
Place them on a plate or baking sheet (they shouldn't touch) and freeze for 2 hours. Once pre-frozen, place in freezer bags, removing as much air as possible. Seal the bag and write the date of completion. You can keep them like that for 1 month.
Defrost them
Simply place them in a hot pan with the oil and follow the same process. Just slightly extend the three cooking times, adding 1 or 2 minutes each time (when they are in the oil, when you put on the water and when you wait for the water to evaporate).
‍💡Frequently Asked Questions
Where can I find Japanese products?
In Paris, there are many Asian grocery stores and supermarkets, the most famous being Tang Brothers. Where I live in Boulogne, there's a grocery store called Imperial Exo (263 boulevard Jean Jaurès), which offers all the Japanese, African and Indian products a cook could dream of. You can also place online orders with online grocery stores, but delivery costs may be a bit high...
What to do if you have leftover garnish?
You don't have to waste it: for example, you can fry it in a pan with noodles - it'll be delicious!
When to eat leeks, carrots and button mushrooms?
Leeks: September to April inclusive.
Carrots: September to March inclusive.
Button mushrooms: all year round.
🎥 The step-by-step video just below
📖 Recette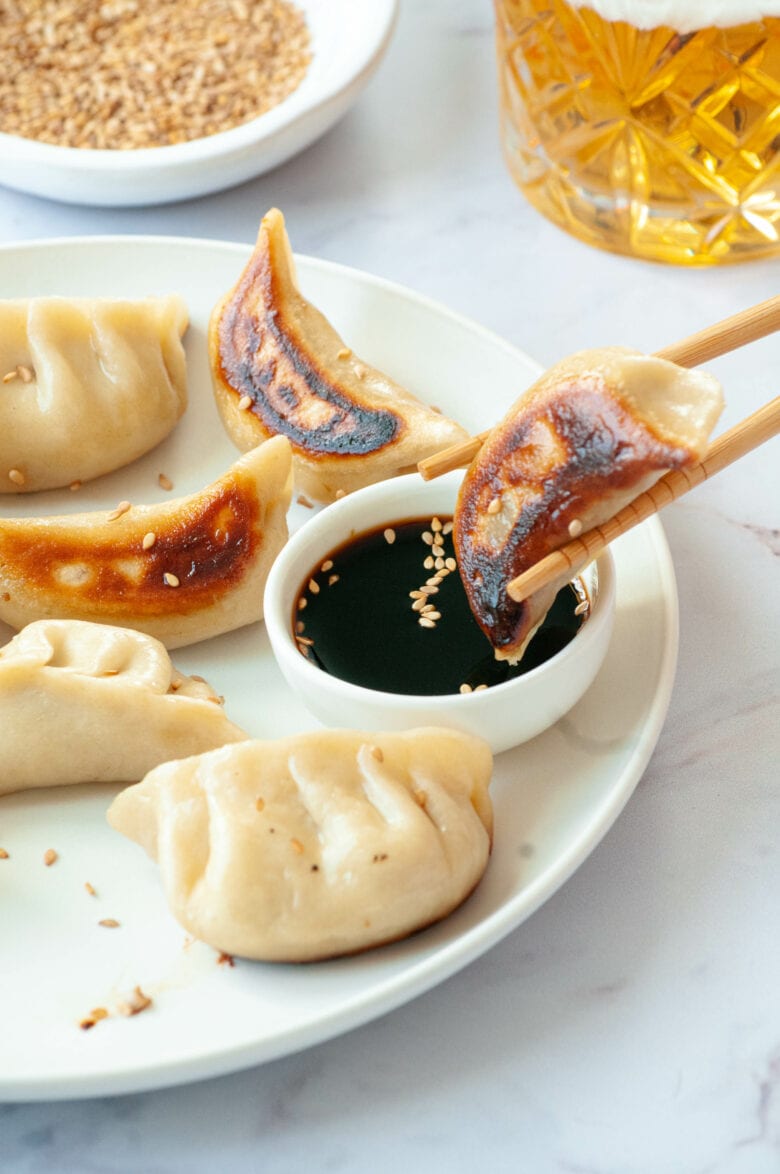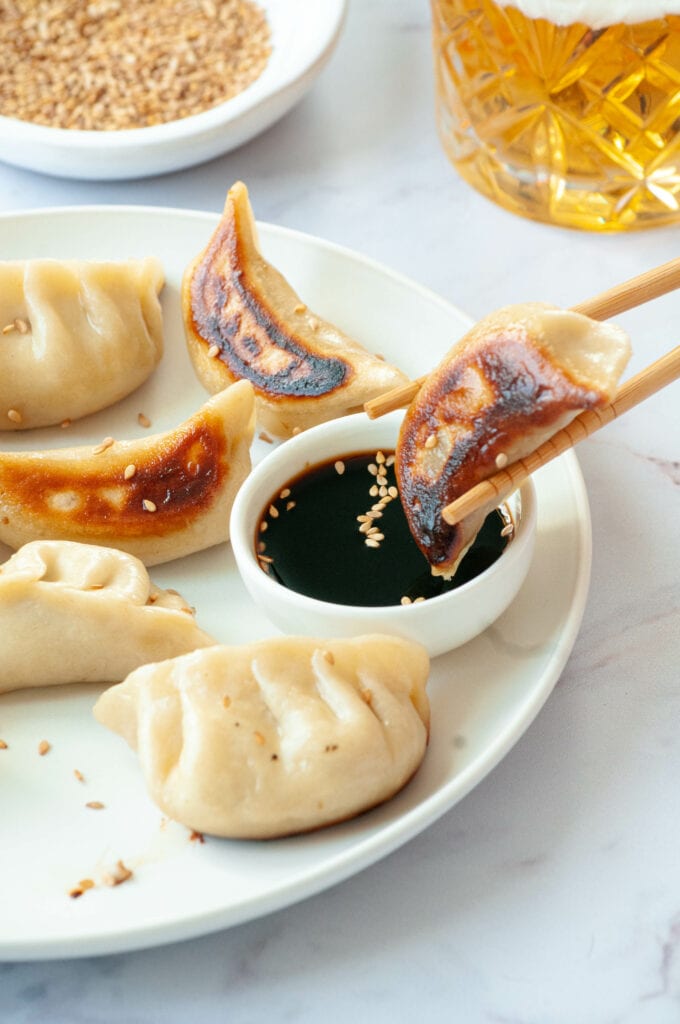 Easy chicken and vegetable gyozas
These chicken and vegetable gyozas are deliciously fried on one side and then steamed, so they're crispy on one side and soft on the other.
Ingredients
If you want to make homemade gyoza dough
25

cl of

water

1

large pinch of

salt

230

g of

flour

T45 all-purpose

A little

Maïzena
The trim
100

g of

leek whites

100

g of

carrot

100

g of

chicken

100

g of

button mushrooms

5

g of

ginger

4

tablespoons of

soy sauce

salty

2

tablespoons of

garlic

powdered

1

tablespoon of

sesame oil
Cooking
2

tablespoons of

sesame oil

4

tablespoons of

water
Instructions
If you have a ready-made gyoza dough, go straight to"Filling".
If you want to make homemade gyoza dough
Bring the water to the boil (in a kettle/pan), then place in a container with the salt and set aside.

Place the flour in the bowl of your food processor, followed by the salt water all at once (or knead by hand). Leave to knead until the mixture forms a ball. Retrieve it and knead it for 5 minutes to soften it further.

Leave to cool completely, then refrigerate for 30 minutes in a hermetically sealed bowl.

Next, place a little cornflour on your work surface and cut your ball into quarters. Roll out the first piece with a rolling pin until the dough is very thin (1 or 2 mm).

Using a 10 cm diameter glass (more or less), make disks. Reshape a ball, rescale it and reshape discs. Repeat until there is no more dough.
The trim
Chop all ingredients as finely as possible. If you have a chopper or the chopping function on your food processor, it's even better. Then add the soy sauce, garlic powder, 1 tablespoon sesame oil and mix.

Put 1 teaspoon of filling on each disc, then fold (see step-by-step process above). Be careful not to put too much on, or they'll tear when you try to close them.
Cooking
Place 2 tablespoons of sesame oil in a hot frying pan over high heat and place the Gyozas on the smooth side. Leave to cook for a few minutes until golden brown on the underside.

Lower the heat to medium, add the water and cover. Cook for 3-4 minutes, remove the lid and cook until all the water in the pan has evaporated.

Repeat the process with the remaining gyozas and enjoy!