How do you make an authentic béchamel sauce at home, one of the great staples of French cuisine? I'll give you all my tips for a gourmet sauce that's easy to make and guaranteed to succeed! And you'll see, it's not that difficult...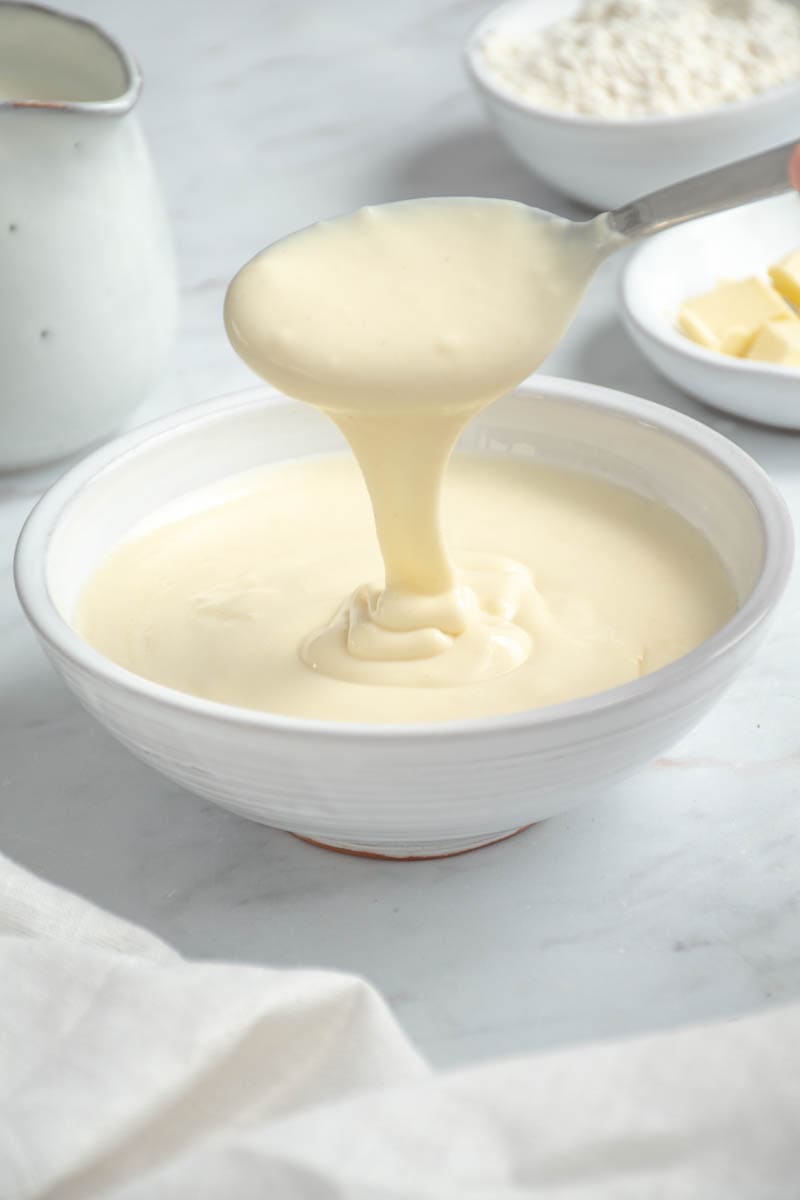 Table des matières
🤔What is a béchamel sauce?
A classic of French cuisine, béchamel sauce is a white sauce made from a roux (a mixture of butter and flour), mixed with milk and prepared in a saucepan.
💙 Why you need this guide
I give you precise quantities
Here are some tips on how to make an easy-to-make béchamel sauce
I'll give you some customization ideas and tell you which recipes you can use it in.
✅ Vegan, gluten-free and lactose-free version
To make this recipe vegan and lactose-free, replace the butter with margarine and the cow's milk with the plant milk of your choice.
To make this recipe gluten-free, replace the traditional wheat flour with cornflour.
Please note: quantities may vary depending on the substitutes you use for your diets.
✨Utilisations de la béchamel
🥰 Chef's tips
When you mix your roux (the mixture of butter + flour), don't let it darken, add the milk. Otherwise you'll have to throw it away
Once the milk has been added, stir constantly to obtain a smooth, lump-free mixture.
Don't put all the milk in at onceMy Mum's trick for making a good béchamel sauce is to let the mixture thicken, add a little milk, let it thicken, add a little more milk, and do this three or four times in a row.
Be sure to use a whisk and scrape down the sides of the pan as you mix.
Don't be too heavy-handed with the nut meg: it will flavour your béchamel (no good béchamel without nutmeg), but it can also kill it if there's too much...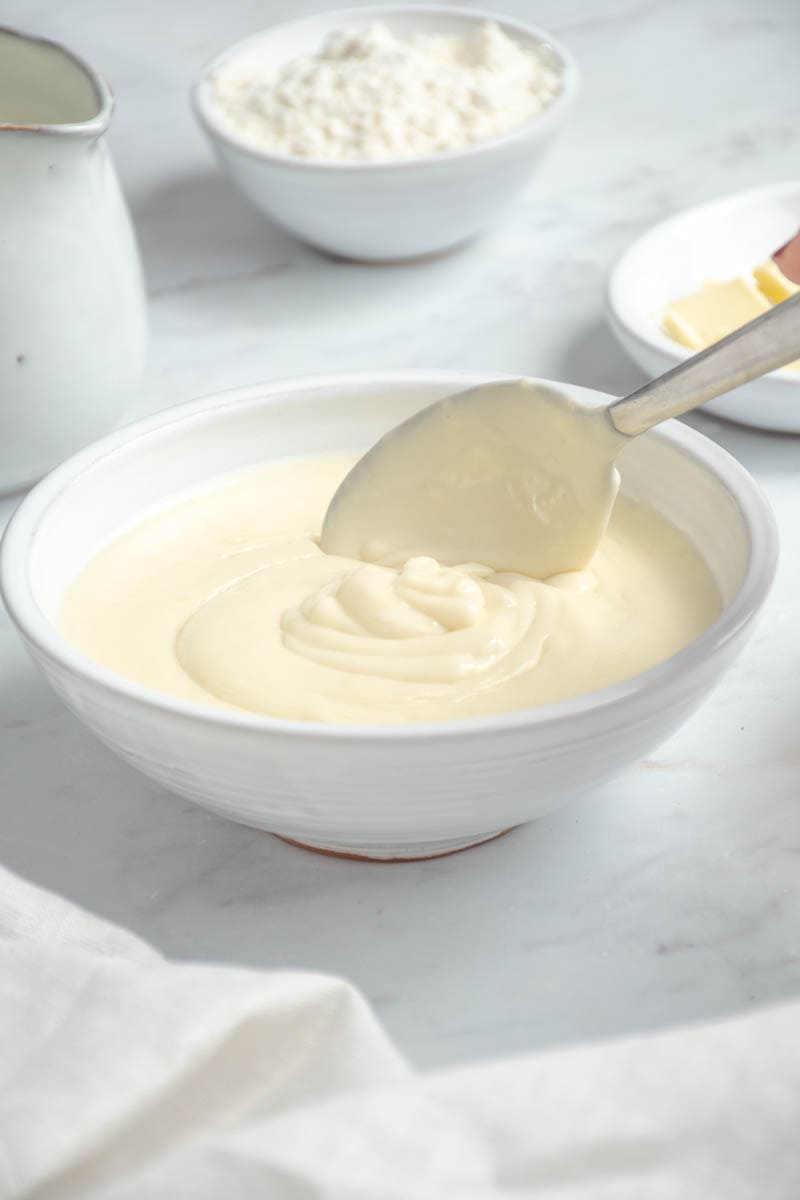 💡 Frequently Asked Questions
Why won't my béchamel thicken?
If you've kept to the proportions I've given you below, it's simply because you didn't let your béchamel cook long enough. Patience, everything comes to those who wait 😉
How do I fix a lumpy béchamel sauce?
If you're sporty, you can try mixing it very vigorously with a whisk. If not, go faster and use a hand blender.
How do you make up for a thick béchamel sauce?
It's probably because there's too much flour or it's overcooked a little. But don't panic, add a little milk while stirring, and it will become more liquid.
How to make up for a too-liquid béchamel sauce?
On the contrary, if your béchamel is too liquid, add a little flour and mix vigorously to avoid lumps.
❄️ Conservation
It's best to use it as soon as it's ready. But you can keep it for 3 days in an airtight container in the fridge.
Some people say you can freeze the béchamel, but I don't recommend it. The texture will have changed, it will be more liquid, and the taste will be distinctly blander...
🎥 Recipe video
If you make this béchamel, it would be so nice to leave me a comment & write down the recipe. You can also tag me on Instagram , Pinterest , Tik Tok or send me a photo, I love to see my dishes in your homes. Enjoy!
📖 Recette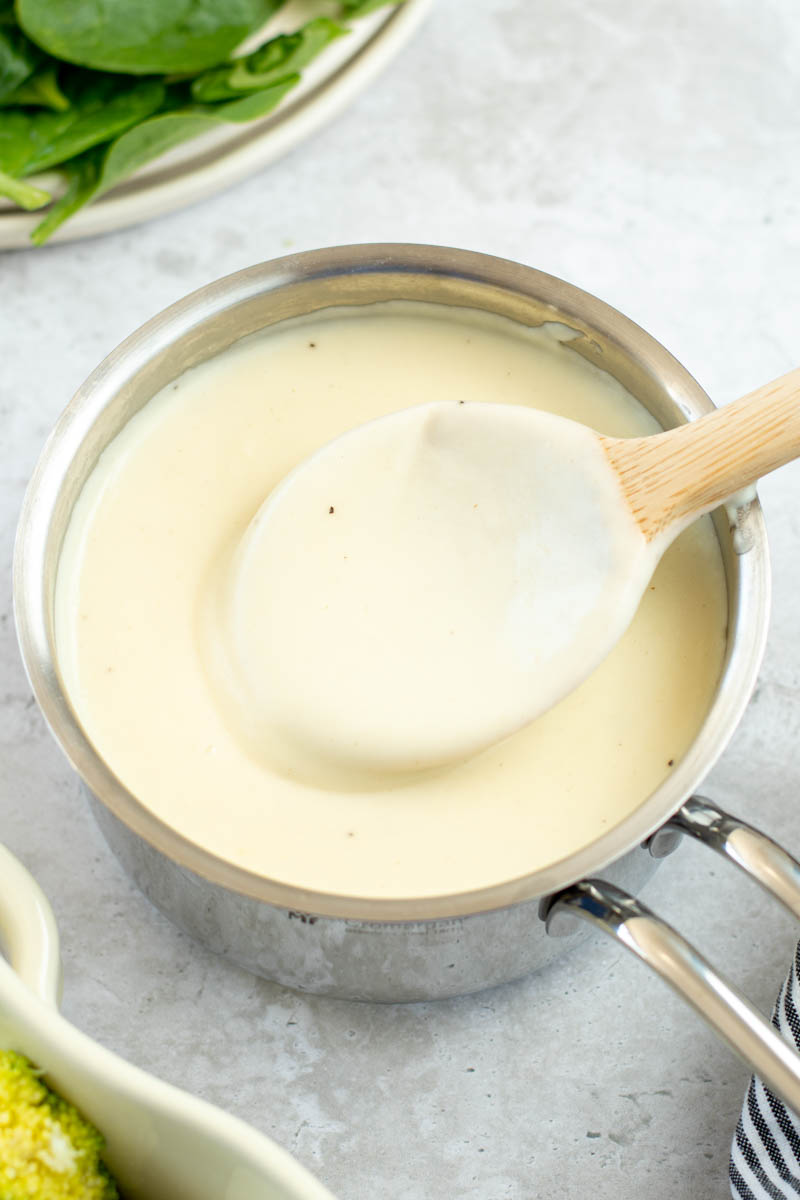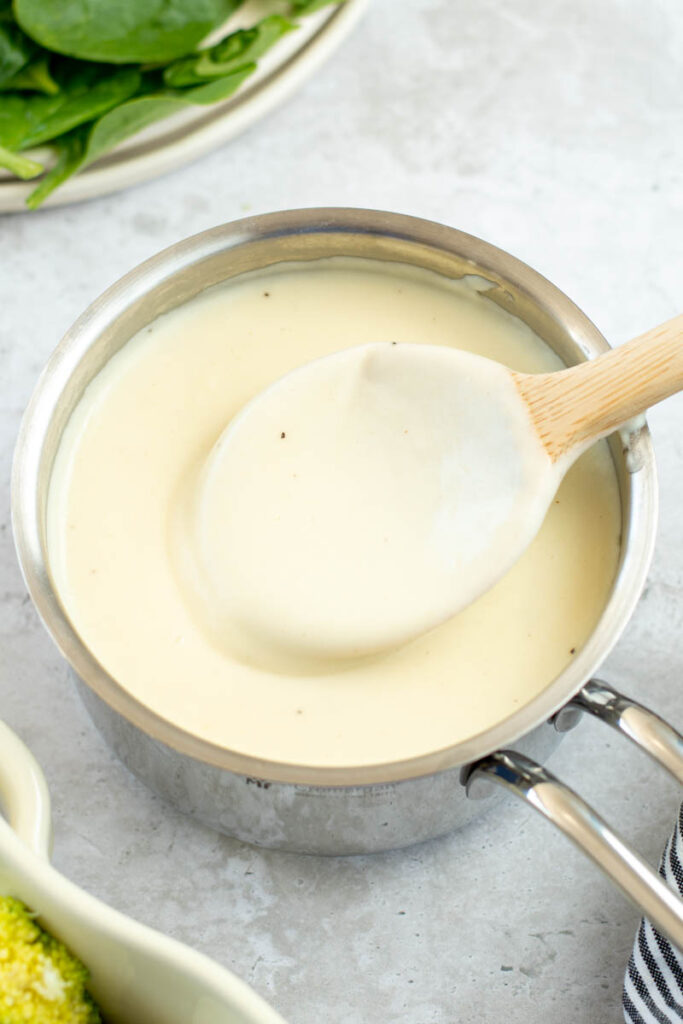 How to make the best béchamel
How do you make authentic homemade béchamel sauce? I'll give you all the tips you need to succeed with this gourmet sauce!
Équipement
Casserole

Des plaques de cuisson
Ingredients
60

g of

butter

sweet

60

g of

flour

T45, all-purpose

212

g of

milk

semi-skimmed

1

pinch of

nutmeg

(optional)

½

teaspoon of

salt

½

teaspoon of

pepper
Instructions
The redhead
Melt the butter in a saucepan over low heat.

Once melted, add the flour all at once and mix vigorously with a whisk.
Adding milk
Add a quarter of the milk. The trick to a successful béchamel is to let the mixture thicken (stirring constantly with a whisk to avoid lumps), add a 2nd quarter of milk, let it thicken, add a 3rd quarter, and finish with the last quarter of milk.
Final baking
Keep stirring until the sauce thickens. In the end, the texture should be smooth and creamy, but not liquid. Remove from heat, add nutmeg if you like, salt and pepper. Mix one last time and use the béchamel in the recipe of your choice.
Notes
About portions and nutritional values The total number of servings indicated is approximate. The actual number of servings depends on your appetite, what you're used to eating, etc... The nutritional information you will find in my recipes is approximate and offered as an estimate. They should not be considered as a guarantee. They are provided as a courtesy and calculated using a third-party online nutritional calculator, WP Recipe Maker. Many factors, such as brands, purchased products and the nutritional fluctuations that naturally occur in fresh produce, can vary the nutritional results of a recipe. To get the most accurate nutritional information for a given recipe, I recommend you take out your nutritional calculator and do the math with the exact ingredients you're using.
Nutrition
Serving:
1
g
|
Calories:
2
kcal
|
Carbohydrates:
0.2
g
|
Protein:
0.04
g
|
Fat:
0.2
g
|
Saturated Fat:
0.1
g
|
Cholesterol:
0.5
mg
|
Sodium:
1
mg
|
Potassium:
1
mg
|
Fiber:
0.01
g
|
Sugar:
0.03
g
|
Vitamin A:
6
IU
|
Calcium:
1
mg
|
Iron:
0.01
mg